At CADU we implement the measures issued by the Ministry of Ecology and Environment regarding the treatment of flora and fauna species in each project we develop.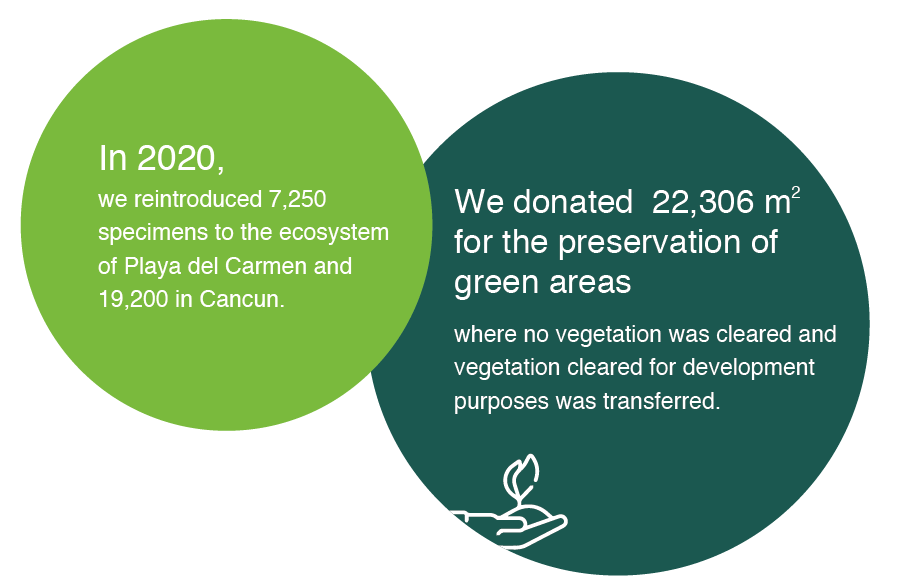 We undertook to protect flora and fauna in our future project in Tulum with the following measures:
Flora:
Running a plant rescue program;
Carrying out reforestation;
Removing the vegetation cover only under the supervision of the authorities;
Ensuring that the dismantled surface is exposed as little as possible during the construction phase to prevent dust being carried away by wind or erosion;
Maintaining areas of use with trees and original vegetation bulbs to be kept as green areas, parks, central dividers, or gardens;
Rescuing and relocating original vegetation bulbs in the project´s green areas, in case the projected design does not allow them to be kept in place, and always under the supervision of the competent authorities;
Planting native or conservation status flora (e.g. chaca, sapodilla, mayflower, ceiba, and other native palm trees);
Reforesting at least 1,500 palm or other trees per hectare if there are affected areas or areas with scarce vegetation;
Ensuring that reforestation efforts are carried out during rainy periods in order to increase the survival and water saving percentages.

Fauna:
Clearing land gradually to allow any fauna that may be on the site to move to adjacent areas;
Putting up announcements and signs to inform people about the importance of the fauna, the reasons protecting it and also the penalties for anyone caught disturbing or taking advantage of the species on the site.